Tuesday, May 17th, 2011
---
7:12 pm
Thursday, June 3rd, 2010
---
6:40 pm
Sunday, April 18th, 2010
---
3:38 am
- Lee Altomare
I seriously can't take this..
I have been sitting here trying to type out something but I am drawing a total blank...
I met you back in the KYI days..you were always a little wise ass..
You were always cracking some sort of bad joke..in which only you would laugh..
You would help out bands no one has ever heard of..and even if it was at Rockstar bar with a busted PA..you would find a way to make the show happen..even if you had to have someone sing through a guitar amp..
You wore your shirts way too big..
You would always send me bands over Instant Message..most of them started with "GOAT" (Goat Penis was the last one you sent me)
We busted your chops when you would say retarded things. and you took it like a man and gave it right back.
You had some vile habits only people would do in private.
You always talked about different types of music..but it always came back to some obscure grind band somehow.
You wondered why people liked your band..You took care of things when you had to.
You were a good natured person who cared for his friends (even if you didn't show it)
You showed concern when my brother passed away and for that I will forever be grateful..
It's all of these things that made you the person that we all knew and loved..and why I will miss you, my friend...
R.I.P. Lee Altomare 1976-2010..
Wednesday, April 14th, 2010
---
1:15 pm
- Vegetarian News
Living in NYC it is really easy these days to be a Vegetarian or even a vegan. With Health Food stores popping up all over the place as well as new Vegetarian restaurants.
Well, yesterday I walked down to my favorite vegi chinese food spot called Dang Lai Palace.
After sitting down I noticed there was a big difference in the place. The artwork had changed, the seating was a little different and the big one for me..The Staff changed.
I mean for most people who go out to eat, you never notice who is working in the place. But for a place that I would frequent more than once a month you notice these things and they get to know what you are going to order.
The new waiter approached me with not one but 2 menus. I opened the new one and noticed that it had a ton of new stuff in it. Upon investigating a little further I noticed they now have chicken,beef and seafood options...How could this be?
The canopy on the place says "Vegetarian". It ,however ,was not strict vegetarian anymore.
I looked at the menu that I am used to and ordered a vegetarian lunch special which was exactly how I remembered it.
I can only wonder why the change happened. My only guess is that they weren't getting the business that they hoped they would once Zen Palate closed down a couple years ago. They needed to bring in a different crowd. A crowd that isn't the type of crowd I want to be a part of.
I love to support vegetarian restaurants of any sort. I have eaten in many new places in the past year or so that appear to be doing very well.
The thing about Vegetarians/Vegans is that we will walk miles for a good meal.
Some of the amazing restaurants I have eaten at in the past couple years

1.Sacred Chow. this place is 100% amazing..and it's such a mellow atmosphere. The food is never hit or miss to me. They have great lunch specials and it's not priced too high. My favorite is the Power Bowl lunch which includes BBQ Seitan,Soba Noodles and Collards..sometimes followed by a Vegan Cupcake or the truffle cake. 100% Vegan and amazing waitstaff



2. Candle Cafe.Since being turned onto this place a couple years ago and being told that the Cajun Seitan Sandwich was the best in the city. Of course, go in there with an appetite because you will need it.

www.candlecafe.com

3.Candle 79. The Big Sister restaurant to candle cafe. a little more upscale than candle cafe (hence the restaurant/cafe difference). They do have the most amazing brunch on the weekends. Of course if you have the room for it, they also have the most delicious vegan cannoli which my mom and my aunt said they were the best they have ever tasted in their lives. Yup, two hardcore Italians. Oh yeah..the Cannoli comes with a scoop of vegan ice cream on top..If you know nothing about this place I recommend looking at their menu on

http://www.candle79.com

4. Peacefood Cafe. Another cafe type place such as Candle Cafe but with a slightly smaller menu. The Tempeh Avocado sandwich is killer. tons of home made vegan cookies and cakes. as well as a full juice bar.

http://peacefoodcafe.com/


5. Soy And Sake. A friend of mine turned me onto this place about a year and 1/2 ago. It quickly became my favorite pan asian places to eat. Of course it's a little bit out of the way for me (7th ave south)but like I said. for good food a vegetarian/vegan will go anywhere.
It has been compared to the less enjoyable (but still good) VP2. From what I understand they now have vegan fried ice cream..can you say..fuck yeah??

http://www.soyandsake.com

There are a ton of other places I could name that I do not go to often enough but I should mention
1.Gobo.
2. Pure Food and Wine. I don't know why I don't go here more often. I ate in their cafe next to the restaurant and their deserts made by one lucky duck are off the hook. You wouldn't even think they were vegan.

http://www.oneluckyduck.com/

http://www.oneluckyduck.com/purefoodandwine/

3.Counter. The menu speaks for itself

http://www.counternyc.com/

So there you have it folks..This is one of the main reasons I love living in this city. So many options that are vegetarian/vegan friendly
Tuesday, February 23rd, 2010
---
11:56 pm
Apparently I am Colorblind
Sunday, February 21st, 2010
---
12:34 am
- DEAD SNOW
Comes out on DVD on 2/23/10


</lj-embed>
Wednesday, September 16th, 2009
---
11:28 am
wow, it's been a long time since I have updated this thing. I did say that I would post about the Marduk show which I never did. I guess it's due to absolute laziness on my part.
I guess when it comes down to it. Unless I am constantly working, I become a lazy fuck. I don't want to do anything and I Just want to sit and listen to music all day.
Life has had it's ups and downs this year..but I guess more up. I am on my way to get my CDL (commercial drivers license) and then I can start looking for steady work driving a truck.
Of course that brings me to my next problem which is..Is that really what I want to do?
Since high school I have been hopping around from job to job and never worked anything steady for more than 4 years. I get burned out way too easy. The only thing I do not get burned out on is playing music..Work pisses me off because it is just not fulfilling at all. I don't have any sort of talent such as a tattoo artist where I can enjoy what I am doing day in and day out..it's always working for some asshole who has some sort of power above you who enjoys pushing you around. So yet again I try something new. Which in a way could be good. Keep moving in life instead of being stagnant.
I feel like my mind is always racing. I become indecisive in everything I want to do. Ill wake up in the morning and eat breakfast and then I sit and try and figure out what I am going to do for that day. I know there are a million things I could be doing, Just setting on one is a problem. I need someone to kick my ass into gear.
Since I stopped talking to Suzanne I haven't had a a good friend I could talk to. No one to give me constructive ideas.
People usually confuse friends with acquaintances. People only have one or 2 good friends, the rest are just there to fill up space in your life. People you see at shows or on the street. Are these people you can turn to in life when shit has you down? Or are they just there when it's convenient for them?
Most people are full of shit. This is just an observance.
Most people only look out for themselves and could really care less about your well being. Of course they will give you the mandatory "Hey how you doing" bullshit. But when it comes down to it, do they really give a fuck about how you are doing? It's just a formality.
I Just need something to help me keep myself on track so I don't lose focus.

Music!

I am still trying to get my shit together and get another band off the ground. I spent the last couple years working on SPDB only to have that fold over on me. Been playing with a couple different people but nothing has come out of any of it yet. Struggling
Speaking of SPDB..that cd I recorded last year still is not out. I'd really like to hear it one day before I hit 80

Maybe one day I will have played on a cd you all can hear..outside of the KYI stuff I did back in 97

I wish my life wasn't filled with bitterness. It's too short to be angry and every little move I make
Saturday, August 15th, 2009
---
6:36 pm
- MARDUK
Marduk playing tonight..Update Later!!


Wednesday, July 29th, 2009
---
11:36 am
- Ratt and Roll
Well, It's been a while since I have updated with a real posting. But that's because there has really been nothing to update about. Until now.
Last night I went to see RATT at Nokia theater. Now before you laugh (if there is anyone reading this to actually make laugh) I saw RATT back in 1987 (March 20th to be exact) and this was well after the fact of them being interesting. Or even after the fact of me being into it.
A friend approached me in the hallway of high school and asked me if I wanted to go see RATT and POISON at Madison Square Garden. Of course my first response was..Hell fucking no..Then he mentioned it once more "Do you want to go see RATT and POISON for free tonight..I have an extra ticket?"
Of course this changes things a little bit so I took the ticket and went to the show and had a horrible time..Well, it was all about the timing with me. I was already going to see punk and hardcore bands at CBGBs so going to see things like this at MSG was out of the question. But since it was free, I figured I would go.
First POISON went on. I couldn't even tell you how they were. Im sure they sounded just like they did on the first Lp "Look what the cat Dragged in". It's not a bad Lp Just not the type of thing I was into at the time..I guess it's a hell of a lot better than Enuff Z Nuff.
Apparently this show was the one where Brett Michaels passed out on stage (because he's diabetic apparently) And it kinda went down in Poison history. Not that I follow Poison history but if I did write about it,It would be right there on PAGE 6.
I am getting off the topic a little bit because I didn't see POISON last night I saw RATT.So back to 1987.
I can't remember what songs that RATT did back then but I'm sure it consisted mostly of songs that were on the newest Lp "Dancing Under Cover".. It was not a bad Lp. but it was no "OUT OF THE CELLAR" which to me was right up there with "SHOUT AT THE DEVIL" by Motley Crue
The 2 big hits for them back in 87 were "Slip of the Lip" and "Body Talk". Again this show was so out of the ordinary for me to go to at this time so I think I might have actually fallen asleep.But I am kinda glad I went to see them, cause I can say I saw them when it kinda of mattered. I also remember talking to this girl who sat in front of us who was also into punk and hardcore.
So jump ahead 22 years later. My friend had won tickets on the Eddie Trunk show and we were going to see RATT again. This time they had a band that was even more horrible open up..EXTREME.
We get to Nokia about 9pm to find that not only did we have free tickets, but I believe the box office fucked up and gave us an extra one. But since every one got there early to see EXTREME (why?) we needed to get rid of the ticket.
Of course there was a point where we were going to give it back to the box office but since it was their fuck up I said let's just leave it in a bush for someone to find.
Then I saw someone who I kinda knew who looked like she was buying a ticket so I asked her if she needed one for cheaper. She told me no but her friend needed one.
She asked her friend who apparently didn't trust us so she paid the $40 (we were going to give it to her for $20)..I never said people who go to these shows were the brightest. What a fucking idiot. We ended up selling the ticket to this tourist who was interested in the show.
We headed into the club about 9:15. A club that was 1/2 full and most of them being middle aged and rocking out to EXTREME.
Ok, let me explain something about EXTREME. There is nothing..and I mean NOTHING EXTREME about them. Well, maybe there is..They are EXTREMELY GAY.
This is a band that came around way after the fact. This band was pure suckage of the late 80s early 90s. They wrote songs that catered to housewives who watched MTV all day. And there was nothing different about them today. They are still EXTREMELY GAY.
So we sat through 3 of their songs which included Gary Cherone humping the amps. It's no wonder than this guy never made it with VAN HALEN.
After laughing at EXTREME for a couple minutes,it was finally time to see what we had come for. It was time to RATT and ROLL again.
This time it was with 3 original members, Warren DeMartini, Steven Pearcy and Bobby Blotzer. Filling in for Robbin Crosby was Carlos Cavazo from Quiet Riot fame. Robbin passed away back in 2002. Filling in for Juan Croucier on Bass was a new guy Robbie Crane
They opened with songs I didn't really know. It didn't matter because I could sense the energy they had. For a band that has been playing for 30 years They didn't lack energy. I have seen punk bands that have been around 10 years and just stand there on stage..making me more tired than if I stayed home and slept.But RATT definitely did turn it out.
They blasted through hits such as LAY IT DOWN and YOU'RE IN LOVE from the Invasion of Your Privacy Lp as well as later songs I kind of recognized such as "Way Cool Jr." off of the Lp REACH THE SKY.
I did notice that Steven Pearcy was wearing a shirt that said "I <3 SNATCH" which I thought was funny. It's good to see that his sexist ways have not left his body from the days of old..and I loved it. Why change for the times?
Since it was their 25th anniversary of the release of OUT OF THE CELLAR they played it from start to finish. which was pretty much the reason why we went to the show.
I seriously felt like I was 13 again when they started to play some of these songs. Of course they played the whole Lp from start to finish. Of course the best ones being "Lack of Communication", "Back for More", "Wanted Man"..actually the whole fucking Lp is stellar. At least it was to me. Then again I grew up on this Lp so seeing them play it from start to finish was really important.
They ended with "ROUND AND ROUND" which was probably their biggest hit to date. Of course they did not have Milton Berle on stage.


Monday, July 20th, 2009
---
12:51 pm
- ADAM YAUCH stricken with Cancer..Cancels tour
Wednesday, July 1st, 2009
---
12:19 am
Monday, June 22nd, 2009
---
11:23 am
- When it's time to Die
Back in 1978,my family and I went on a trip to California. Los Angeles to be exact. It was one of the first trips that I can actually remember being on. I sure it was not the first one because there are plenty of photographs of others.
I remember the trip being really fun, We went to Disneyland,which was probably the first time I had ever been on a Roller coaster. I do not recall being frightened, actually I remember it being quite amazing. I probably didn't know what was going on.
We also went to visit my grandparents in which my grandmother was visiting her sister (my aunt) out there. I barely remember that my aunt lived in a trailer but it was really nice. They had an old dog which I enjoyed walking. I walked him down on the docks by the water. He was a sweet dog, but he had trouble walking so you needed patience while walking him.
I'm sure there were other things that happened on that trip but the event leading up to them are kinda blurry.
But one thing that did happen that is not blurry at all happened at the airport.
As we were about to load onto the plane, my father was in his usual stressed out manner. Of course this would really affect things when a Krisna approached us at the gate and offered us a book called "Bhagavad Gita As It Is".
I will never forget the name of that book for reasons following.
Of course my dad being in typical dad manor told them to leave us alone, that we had no money. Of course as I later learned they only want a donation for the book. Of course my dad declined in dad fashion and we board the plane.
About 20 minutes into the flight we get an announcement over the PA stating we were returning to LAX.
What could the problem be? Did the pilot forget his wallet or flying permit?
Nope
A couple of stewardesses asked my dad for his help with something in something.
Apparently we were going to make an emergency landing back at LAX and they asked my dad for help on something. Possibly opening the door when landed.
Were we going to make a water landing, like I have seen pictures of in the phamphlet? Will we be floating around in the ocean. Come on,The way we were flying we were over land. At least this is what I was led to believe at age 7. I think they just wanted to cover all basis. We were obviously going to be sliding down some sort of ramp to get out once landed.
People were extremley calm for something that could possibly end our lives. So how bad could it be.
Then we were asked to put our seat belts on and remain in our seats. What the hell was going on? No one was sharing with me. I was just enjoying all the excitement.
As a little bit of time past we were now asked to place out heads down between our legs and clasp our hands behind our heads. Sure, but still have no idea what is going on. But this was fun.
I peek out the window and see the ground coming up closer and closer.
Finally we touch down on the runway back at LAX and people go balistic in happiness.
I look out the window again and see ambulances and firetrucks speeding around heading towards the plane.
Well now that I know we are safe I needed to know what the hell happened.So I asked my dad.
Apparently there was a hole in the wing. I'm no flight engineer but something told me back then, that isn't safe. THERE WAS A HOLE IN THE WING!!!
I think I might have been too young to realize that we could have all been killed.

Back in the terminal the Krisna approached us again and this time my dad bought the book.

I don't remember how long we waited to get another flight but I am sure I read that book cover to cover (even if I didn't understand one word of it)
I do,however, remember what movie they were playing on the flight back home.
My dad approached the stewardesses and asked them if they knew what happened to all the people that were on the flight.
The stewardess did not know..of course but my father promptly told her that they were on a plane that had an emergency landing.
Then He asked her if she knew how the movie they were playing ended?
Once again she did not know.
My dad said
Well, that's The BUDDY HOLLY story and he dies in a plane crash.
The stewardess mouth dropped open and put another movie on.
This flight was a lot smoother than the last one..and we got back to 1648 Dewey ave just fine.

Back at school we got to write about what we did on our time off. No ones story compared..
Thursday, April 23rd, 2009
---
2:51 am
- MASTODON SETLIST 2009
This is not a spoiler for those who know..they are doing they whole CRACK THE SKYE Lp!!!

1st set

Oblivion
Divinations
Quintessence
The Czar
Ghost of Karelia
Crack The Skye
The Last Baron

2nd set

Bladecatcher
Colony of Birchmen
The Wolf Is Loose
Crystal Skull
Capillarian Crest
Seabeast
Iron Tusk
March of the Fire Ants
Hearts Alive

can't fucking wait..2 NY shows!!
Tuesday, April 21st, 2009
---
11:26 am
- Wildlife Conservation Society 5K run
I am involved in a 5k run at the Bronx zoo this coming Saturday (4/25) to help the WILDLIFE CONSERVATION SOCIETY.

Run to help save Gorillas in 2009. We need your help in protecting a species that is at great risk of extinction.
Sign up now for Run for the Wild and start the race to save Gorillas.

Or if you can't participate in the event, you can still take action by making a pledge!

Below is my pledge page which I will be accepting up until the event..or you can join me in the event

Any amount is appreciated..

https://www.wcsrunforthewild.org/pages/jamesconaboy/
Friday, February 27th, 2009
---
1:14 pm
- Impaled Northern Moonforest
Today is a good day..
Im going to see TWISTED SISTER (for free)
I passed another one of my CDL permit tests
and
I am going to be on an episode of THAT METAL SHOW on VH1 next season..
I got to "stump the trunk"
hah
Friday, February 20th, 2009
---
12:46 pm
- Depressing
Last night my computer died, which I don't know if it's a bad thing or not.
It gave me a chance to do some stuff that I wouldn't have done other wise. I finally put 2000 Lps into the shelves that I got last year, so they are no longer on the floor.
I did however get out for a nice walk in the cold yesterday which made me see many things which I haven't seen in about 20+ years.
On my walk I have seen buildings for SALE, stores CLOSING DOWN, or already closed down.
I know our economy is in the toilet right now, but this is a serious matter. Some of these stores have been there for ages.
I also noticed that when I was buying groceries that some of the stuff (mainly the more healthy stuff) had gone up in price.
Where are we going to be next year. Are we going to be going into another great depression.
Good thing I have a little bit of money saved up so I can survive this "depression" but what happens when it all runs out and no one can find a job?
Will crime in NYC be on the rise again? Will NYC look the same as it did in the 70s?
It's a scary thought to think it will.
It seems that all these people, mainly NYU students, are walking around with their heads in the clouds thinking everything is ok..and OBAMA is the next saviour.
Well I certianly hope he's just not another pretty face, because right now we are headed for a fucked situation.And there doesn't seem to be much of an end in sight!!
Thursday, February 5th, 2009
---
10:51 am
- Cramps founder and punk pioneer Lux Interior dies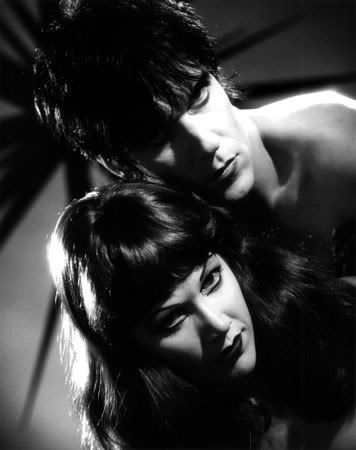 By ANDREW DALTON

LOS ANGELES (AP) — Lux Interior, co-founder and lead singer of the pioneering horror-punk band the Cramps, has died, the group's publicist said. He was 60.

Interior — whose real name was Erick Lee Purkhiser — died Wednesday of a pre-existing heart condition at a hospital in Glendale, Calif., publicist Aleix Martinez said in a statement.

Interior met his future wife Kristy Wallace — who would later take the stage name Poison Ivy — in Sacramento in 1972.

The pair moved to New York and started the Cramps with Interior on lead vocals and Ivy on guitar. The group was a part of the late `70s early punk scene centered at Manhattan clubs like CBGB, alongside acts like the Ramones and Patti Smith.

Their unmistakable sound was a lo-fi synthesis of rockabilly and surf guitar staged with a deviant dose of midnight-movie camp. Some called it "psychobilly."

The pale, tall, gaunt Interior appeared shirtless with black hair and tiny, low-slung black pants, looking part zombie, part Elvis Presley as he crawled, writhed and howled his way across the stage.

The group had the raw intensity of punk, but took the music in new directions by incorporating theatrical elements, often horror-themed, in songs like "I Was a Teenage Werewolf" and "Bikini Girls With Machine Guns." Their breakthrough debut EP was 1979's "Gravest Hits."

The band made a notorious appearance at a California mental institution, Napa State Hospital, in 1978. The performance, whose video is still popular on YouTube, was a punk-era echo of the Folsom Prison concert of Johnny Cash, one of the band's influences.

Interior was widely rumored in 1987 to have died from a heroin overdose, and his wife received flowers and funeral wreaths.

"At first I thought it was kind of funny," he told the Los Angeles Times at the time. "But then it started to give me a creepy feeling."

The Cramps' lineup changed often through the decades but Interior and Ivy remained the center. Their bluesy, trebly sound — the group didn't have a bass guitarist — resonates in modern minimalist groups like the White Stripes and the Black Lips.

The band's last release was the 2004 rarities collection "How to Make a Monster." They were still touring as recently as last November.
Sunday, January 18th, 2009
---
4:00 pm
- Top 5 Lps of 2008
Well here we have come to the end another god awful year but there has been some good music turned out this year.

5- Metallica- Death Magnetic
I am putting this as one of my top entries because at first when I first heard the song they had playing on the radio, I did not like it. I thought it was just old Metallica just trying t rehash what they have been. But I gave it another listen when I purchased the LP a couple months ago and began to enjoy it more and more.
Over all it's a pretty solid Lp from start to finish. I am not saying it's as good as Ride The Lightning.I all it the best come back Lp of the decade (considering they broke up after And Justice for all..)

4- Hanson Brothers-It's a Living (live Lp)
I am probably one of the only people to put this on a top 5 of 2008. I am adding them to my top 5 because I am a long standing fan of this band. I have traveled to Canada to see them play and they put on a great show live. And this Lp proves it. Blasting out songs from the 3 Lps they have released (My game,Sudden Death and Gross Misconduct) as well as a couple of surprises. The Cd comes with an added bonus of how to brew beer.

3-Black Anvil Cd
Another band I was skeptical to hear when I first heard who was in the band. Nothing bad but the fact it has members of Kill Your Idols I figured it was gonna be a joke..Holy shit was I surprised. When I saw them I was still a bit skeptical but that quickly changed. The Lp is solid Lp and why I am putting this in my top 5. Fans of CELTIC FROST take note. Black Anvil will not disapoint

2-2 Man Advantage- South of Canada
The long awaited Lp from these Hockey Punks has finally arrived. I remember going to a BBQ out on LI in 2004 and Rob driving drunk to his house just so I could hear the rough mix of this. 4 years later I finally got to hear the finished product. And it was well worth the wait. In my opinion it is their best release to date.

1- Triclops- Out of Africa
I think one other person will agree with me to why this Lp should be the 1 Lp of the year. This band features members of The Fleshies as well as Victims Family. From start to finish this Lp does not disappoint with songs such as Lovesong for the Botfly and Iraqui Curator. Great stuff

Honorable mention to the newest OPETH Lp "Watershed" and the newest Deathcycle Lp "PRELUDE TO TYRANNY"

So there you have it. If you want to go and buy some new Lps go then check out some of these.
Saturday, January 17th, 2009
---
4:49 pm
- Top 8 shows of 2008
I know it's 2009 but Im behind on everything

Top 8 shows of 2008

8-MELVINS - williamsburg music hall. Aug 13th 2008

7-LAIBACH - Irving Plaza September 30th 2008

6-BLUE OYSTER CULT-Irving Plaza Jan 25 2008

5-OPETH-Nokia Theater Sept.18th 2008

4-NEUROSIS and MASTODON at the Masonic Temple Jan 24th 2008

3-TRICLOPS-Lost and Found and Cake Shop (can't remember dates)

2-AC/DC-Madison Square Garden Nov.30th 2008

1-KING CRIMSON- Nokia Theater August 17th 2008
Sunday, November 23rd, 2008
---
8:44 am
- awesome!!!!